Frälsaren flyger
20120817
Sorry, this entry is only available in Svenska.
The peace monument is getting ready
20120809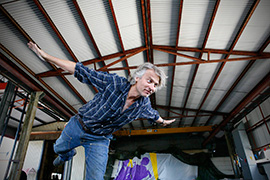 The sculpture festival in Arboga is approaching its final. The opening for the public is on Saturday, the 11th of August.
Arboga Newspaper portrays Lasse and his sculpture http://bblat.se/nyheter/arboga/1.1747229-en-bombangel-vaxer-fram-i-arboga
and Swedish Public Service Radio covers the event in its cultural program Kulturnytt: http://sverigesradio.se/sida/gruppsida.aspx?programid=3980&grupp=10975&artikel=5223781 (only in Swedish).
Photo: Lennye Osbeck, Bärgslagsbladet.
The Savior in the air. Se it on youtube here
International sculpture symposium in Arboga, Sweden 22/7-12/8 2012
20120713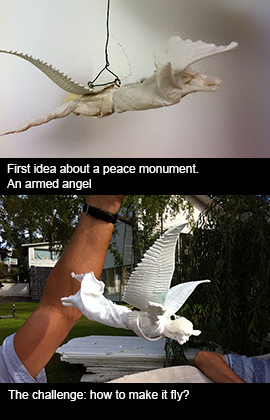 This summer Lasse Nilsson will participate in Peace Monuments of War Material, a unique international sculpture symposium with the aim of creating peace monuments from scrapped military equipment. The symposium will take place during three weeks when 15 internationally active artists from 7 countries (China, USA, Germany, Netherlands, Sweden, Great Britian and Romania) will gather to make peace monuments in the form of sculptures. They will work in a large studio, ASOMA, an industrial facility along the river in Arboga.
These peace monuments shall later form a permanent sculpture park.
The artist Richard Brixel is the initiator of the project.
A particular seminar on Art as an Arrow to Sustainable Economic Growth will be organized during the symposium.
By creating a permanent sculpture park with Peace Monuments of War Material, the city of Arboga hopes to attract visitors to the region for a long time ahead.

www.peacemonuments.se
Lasse Nilsson talks about his contribution.