International sculpture symposium in Arboga, Sweden 22/7-12/8 2012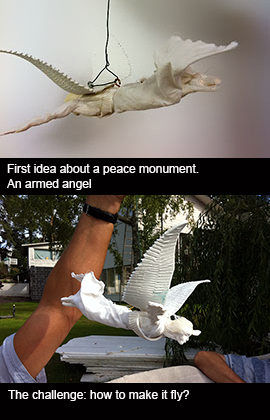 This summer Lasse Nilsson will participate in Peace Monuments of War Material, a unique international sculpture symposium with the aim of creating peace monuments from scrapped military equipment. The symposium will take place during three weeks when 15 internationally active artists from 7 countries (China, USA, Germany, Netherlands, Sweden, Great Britian and Romania) will gather to make peace monuments in the form of sculptures. They will work in a large studio, ASOMA, an industrial facility along the river in Arboga.
These peace monuments shall later form a permanent sculpture park.
The artist Richard Brixel is the initiator of the project.
A particular seminar on Art as an Arrow to Sustainable Economic Growth will be organized during the symposium.
By creating a permanent sculpture park with Peace Monuments of War Material, the city of Arboga hopes to attract visitors to the region for a long time ahead.
www.peacemonuments.se
Lasse Nilsson talks about his contribution.